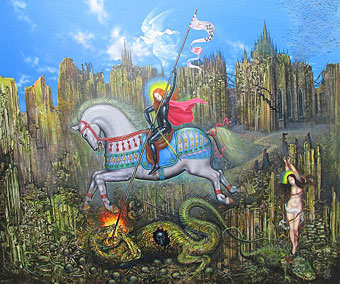 Wolfgang Grasse died in 2008. Above is one of his last paintings depicting St George killing the dragon. It is © the estate of Wolfgang Grasse. It was bequeathed to Damian Michaels.
---
I first became aware of the work of Wolfgang Grasse in the late 1970s when he was featured in a short documentary on Australian television (which followed a documentary on Max Ernst). A few years later I saw one of his paintings on the cover of Nevill Drury's book
Other Temples Other Gods
.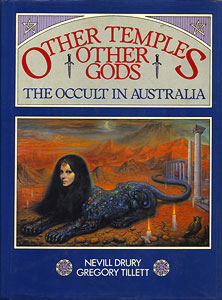 After some failed attempts to locate him in the late 1980s/early 1990s I finally managed to trace him to Penguin Tasmania.
I passed his contact details to Damian Michaels, whom I first met in 1997, and who later founded, and edited a short–lived fan catalogue/magazine, ArtVisionary. Damain Michaels had been seeking Australian artists to showcase in his fan magazine.
Below is the letter written to me by Wolfgang thanking me for the introduction. Though he had sent material to "VISION ART. MAG" (ArtVisionary), he had not received a response.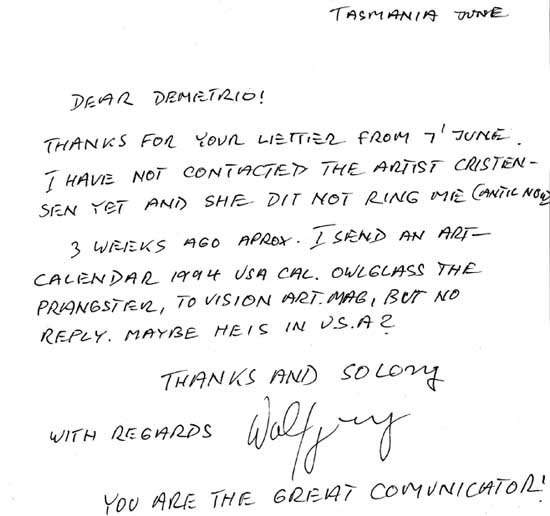 A phone call established that the material Wolfgang had sent to Michaels was his children's illustrations. These works did not make a favourable impression on Michaels. After telephoning Wolfgang I convinced him to send examples of his "Life and Death" series which had been featured in the 1970s documentary (some of which was reproduced in the book by Drury, below, which shows a very young Grasse in front of his work).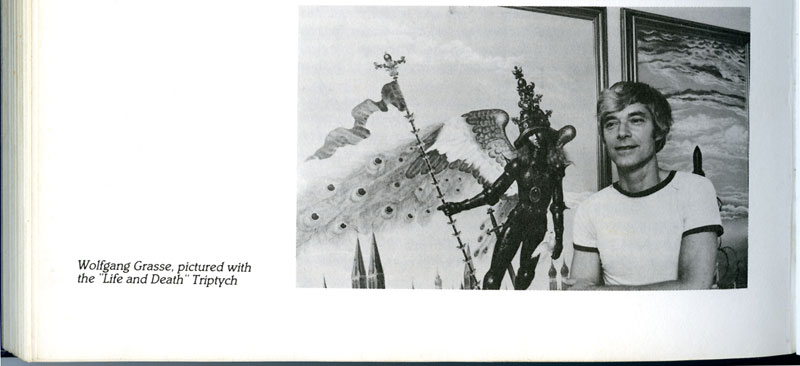 Damian Michaels soon visited Wolfgang in Tasmania. Michaels became besotted with the medieval Christian vision of Grasse and soon began promoting Grasse as the greatest ever artistic discovery. De Boeck rightfully dismissed this as unfounded – in particular the claim by Michaels that Grasse was a greater master than Fuchs. The email (screenshot below) shows, Michaels' level of unrestrained enthusiasm.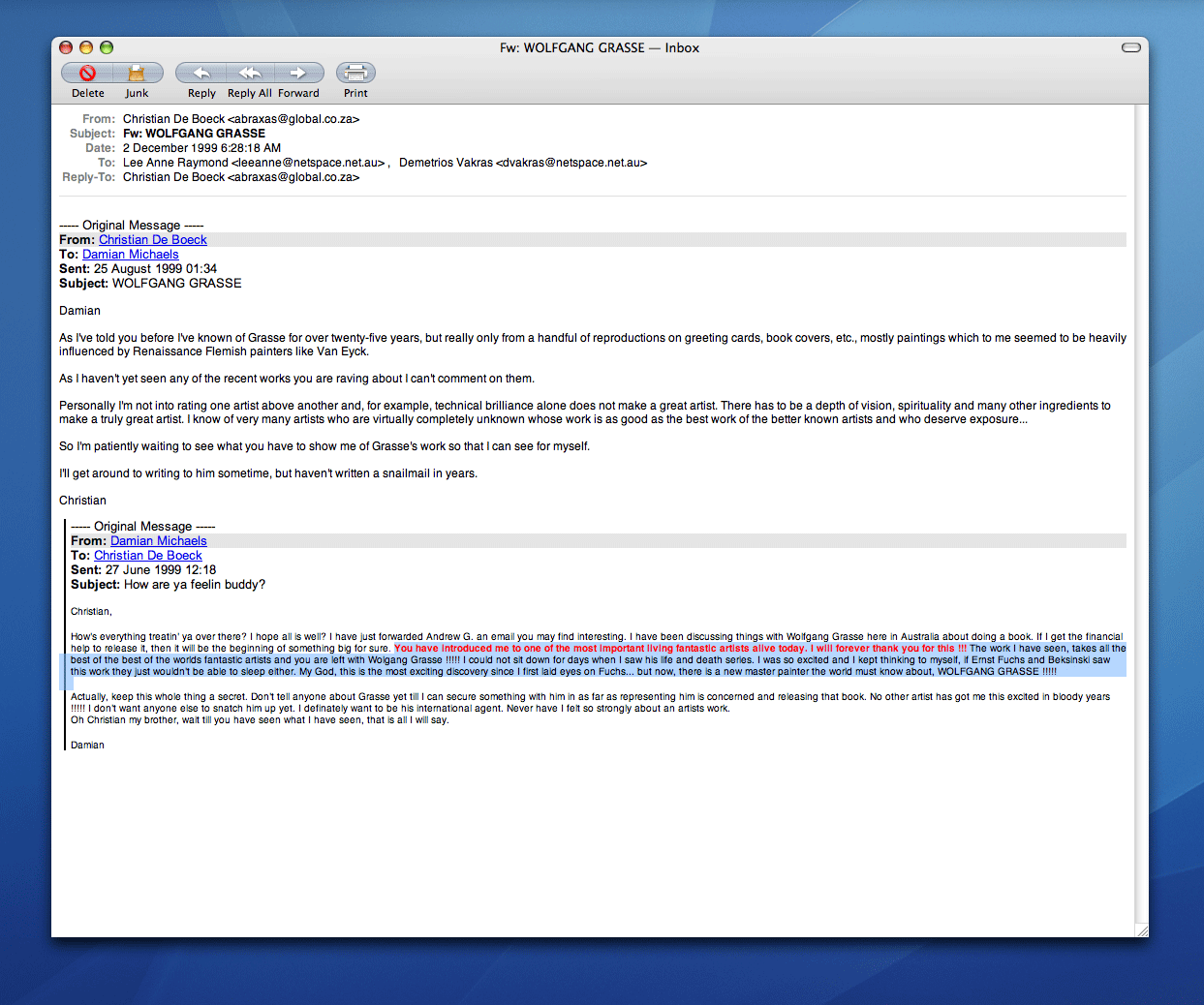 The email above, by Damian Michaels dated 27/7/1999, was forwarded to me by De Boeck on 25/8/1999.
Michaels writes:
"You [Christian] have introduced me to one of the most important living fantastic artists alive today. I will forever thank you for this !!! The work I have seen, takes all the best of the best of the worlds fantastic artists and you are left with Wolgang Grasse !!!!! I could not sit down for days when I saw his life and death series. I was so excited and I kept thinking to myself, if Ernst Fuchs and Beksinski saw this work they just wouldn't be able to sleep either. My God, this is the most exciting discovery since I first laid eyes on Fuchs... but now, there is a new master painter the world must know about, WOLFGANG GRASSE !!!!!"
For reasons known only to Michaels, he attributed my introducing him to the works of Grasse to de Boeck instead (Michaels' viscious and histionic response to my asking him about the matter is a subject that is outside the scope of this essay). However, the purpose of the reproduction of this email is intended to demonstrate the root–cause of de Boeck's eventual and entirely unprovoked and relentless attempts to destroy the reputation of Grasse.
De Boeck is a fan of the genre of "Fantastic" art, and uses his own statements he himself makes on his own webpages, as "proofs" of his authority in the field; for instance, de Boeck, has a "fantastic art" "myspace" page and on it he uses material he himself wrote on the "Society of the Imagination" site (hosted by Tripod) as "proof" of his authority on the subject. It becomes evident that he feared that his "authority" was being usurped or undermined by someone else. It appears evident then, that by assassinating the character of Grasse, he could undermine Michaels.
De Boeck's campaign to assassinate the character of Grasse involved emailing mutual contacts that he shared with Michaels, which included myself. Some of these emails obviously came to be seen by Michaels who soon began to email de Boeck with requests that their correspondences remain in–confidence. De Boeck belittled this request as "PARANOIA".



Above, email by de Boeck dated to 25/1/2000. In this email de Boeck ridicules the request of confidentiality made by Damian Michaels.
What was worse, was that the criticism of Grasse had (in part) come to revolve on the correspondences between de Boeck and another artist (Clay Anderson), who mistakenly believed that he knew Grasse.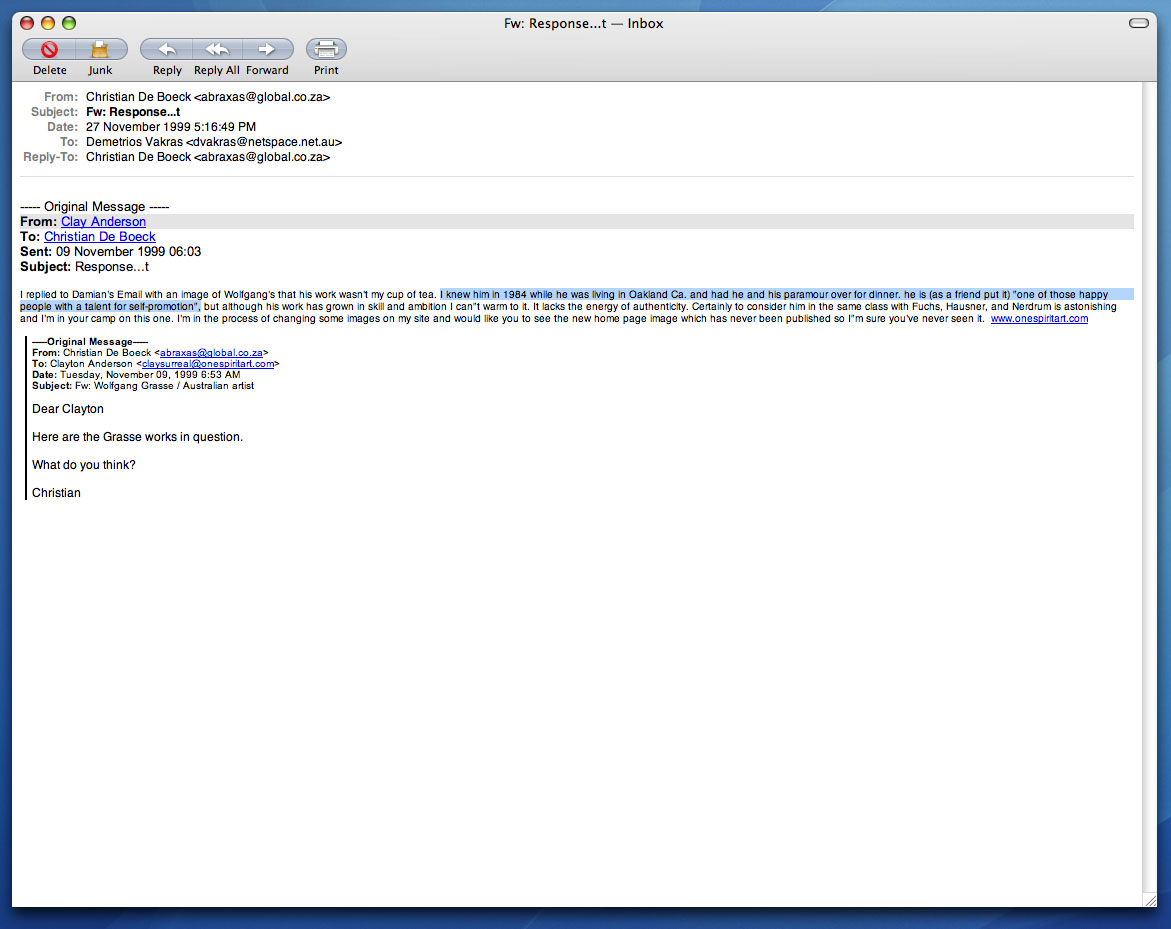 Above, Clay Anderson's email to Christian De Boeck dated 9/11/1999 forwarded to me by de Boeck on 27/11/1999 as "evidence" supporting his belief of the dubious bona fides of Grasse. Clay Anderson wrote: "I knew him in 1984 while he was living in Oakland Ca. and had he and his paramour over for dinner. he is (as a friend put it) 'one of those happy people with a talent for self-promotion'."
As it turned out, the person Clay Anderson knew was a Wolfgang Gersch, not Wolfgang Grasse.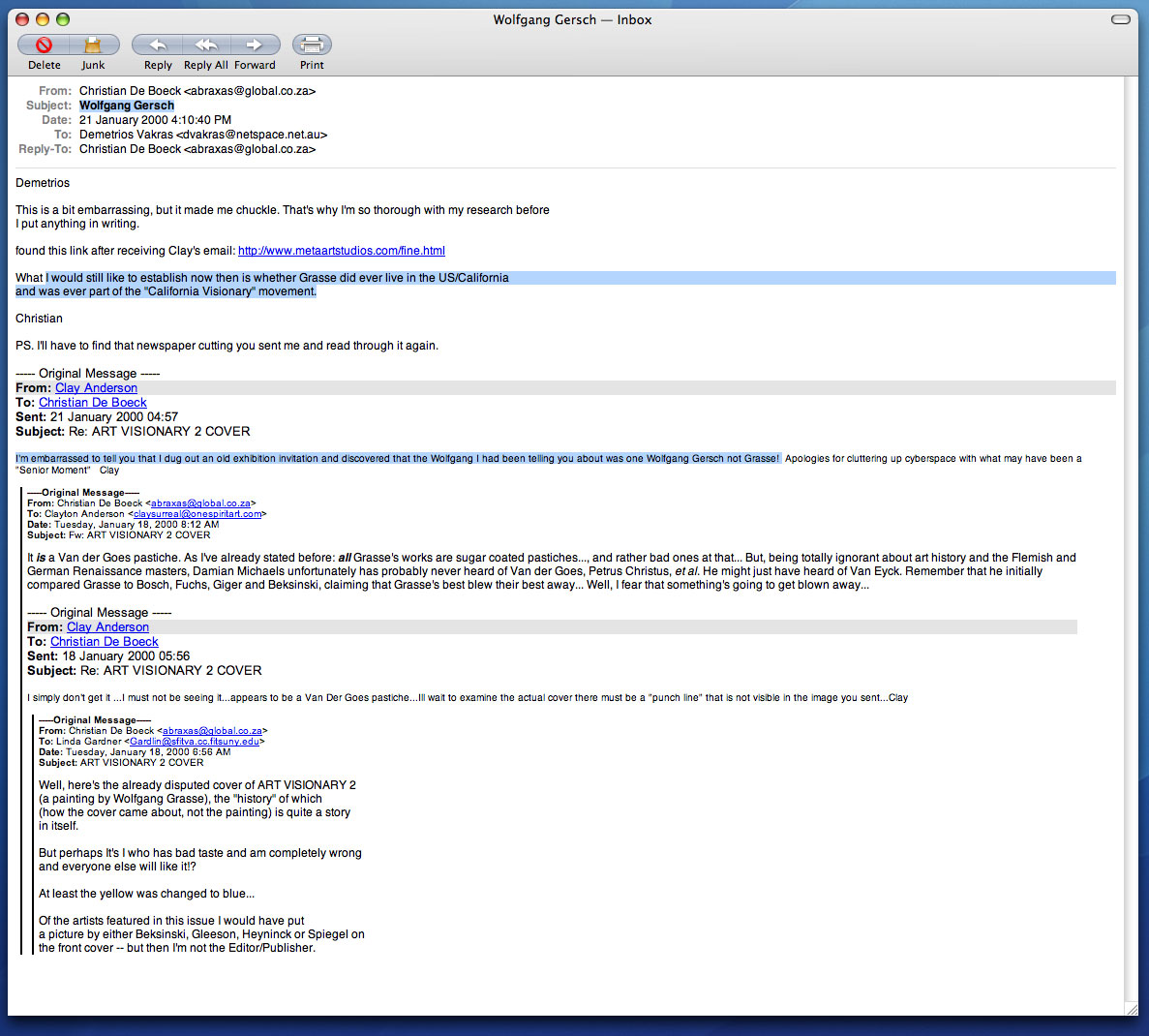 Above, the email of 21/1/2000 by Clay Anderson in which he, with considerable embarassment, realised that he had confused another artist that he had once known, by the name of "Wolfgang Gersch", for "Wolfgang Grasse". I do not think that Clay Anderson was at this stage aware of the malice that guided de Boeck. It was an innocent mistake made in a private correspondence (between him and de Boeck), which de Boeck deliberately misused.

Though de Boeck had by this stage dug a very deep hole, he could have salvaged the situation if he possessed any sense of decency. He could have acknowledged his error and apologised. Instead, de Boeck, as he wrote in the email above, was going to continue digging dirt on a man who had done him no wrong.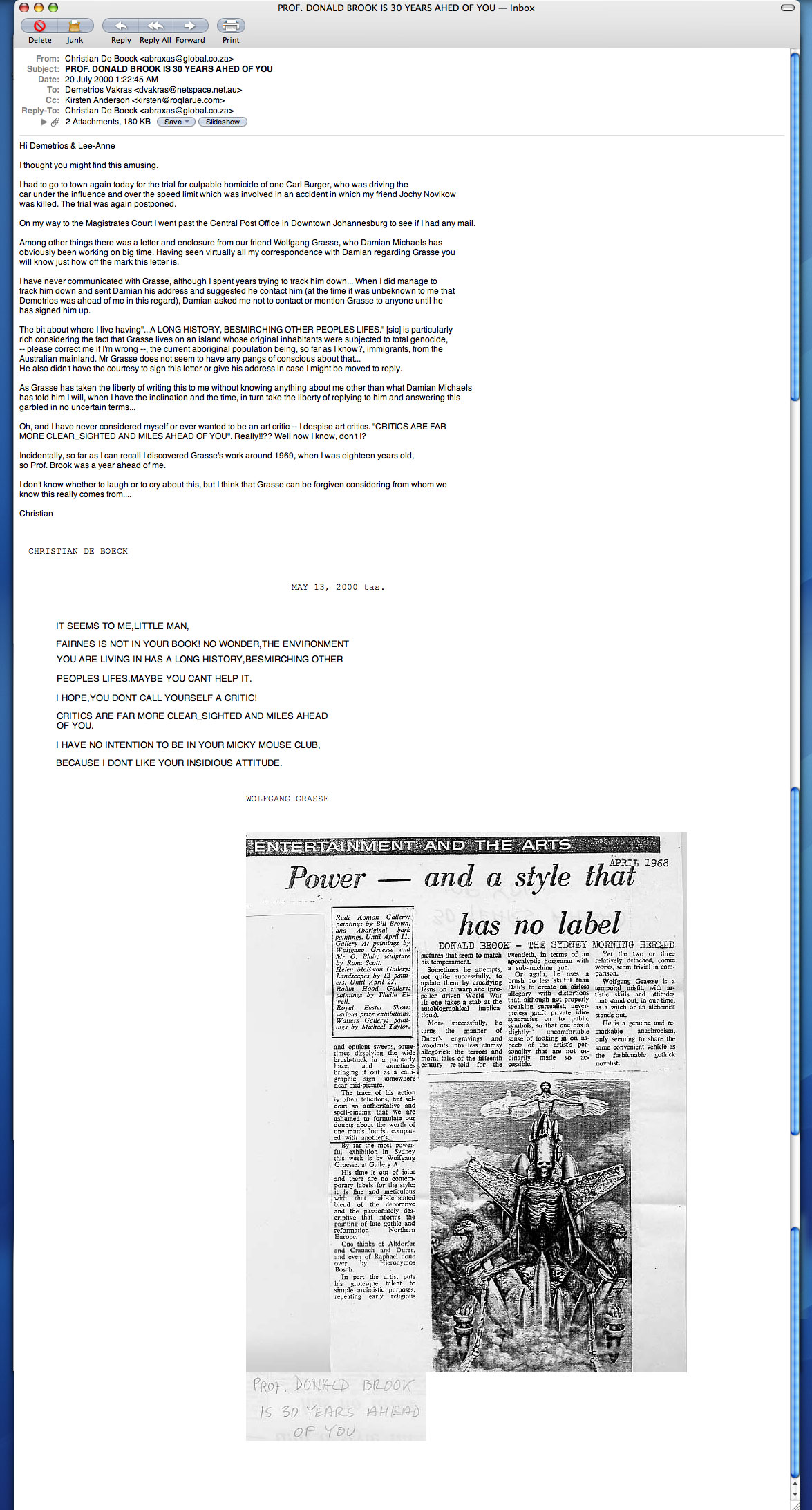 In July of 2000 de Boeck forwarded me the above email. Grasse had eventually come to read some of the poisonous de Boeck emails about him. De Boeck's reaction was characteristically one of hypocrisy, criticising Michaels for forwarding printouts of emails and belittling Grasse for criticising him. Instead of writing to Grasse (since he claimed to know his address) to either apologise, or expalin the reasoning (however irrational) behind his campaign, de Boeck simply vilified his victim.
Grasse's message of 13/5/2000 to de Boeck (as typed out by de Boeck) reads:
"IT SEEMS TO ME, LITTLE MAN,
FAIRNES IS NOT IN YOUR BOOK! NO WONDER, THE ENVIRONMENT 
YOU ARE LIVING IN HAS A LONG HISTORY,BESMIRCHING OTHER 
PEOPLES LIFES. MAYBE YOU CANT HELP IT.
I HOPE,YOU DONT CALL YOURSELF A CRITIC! 
CRITICS ARE FAR MORE CLEAR SIGHTED AND MILES AHEAD
OF YOU.
I HAVE NO INTENTION TO BE IN YOUR MICKY MOUSE CLUB, 
BECAUSE I DONT LIKE YOUR INSIDIOUS ATTITUDE.
WOLFGANG GRASSE"
De Boeck never apologised to Grasse.
Wolfgang Grasse died in August 2008, apparently after his partner drowned. Very sad stuff.
( link: http://visionaryart.tribe.net/thread/203ddc72-d3da-4c9f-994f-bb85294faa3e)
Demetrios Vakras 19/4/2010.