The concept behind this site was to create a design in which the visuals, without written text, dictate the navigation. With this site I took advantage of the new possibilities offered by electronic publishing. A publication, at least electronically, need not be of static pages of the kind found in a printed book.

This site was built using Macromedia Flash 4 in April 2001. It was built on an Apple Macintosh computer (a PPC G3 on OS 8.6). Since March 2008 a dual 800mhz PPC G4 Mac has been used. The G4 was purchased used. It can run both the traditional Mac OS and the newer Mac OS X, and can boot in the old Mac OS if that is required. The purchase of the G4 was made necessary after buying a new Intel Mac in December 2007. (The G4 is run by Tiger 10.4.11, and can boot up on 9.2.2).

Modifications to the "fla" files on this site are still made using Macromedia's Flash 4, run in Mac Classic, even though I have Adobe's Flash CS3 installed and Macromedia Flash MX. The newer MX and CS3 Flash versions somehow alter the code for the preloader, even if the only change I make to a file is to the email address link. (The CS3 version of Adobe's Flash was used to re-edit a micro-version of my site, in flash, in the Greek language - which is something older flash versions could not do:
http://www.vakras.com/fantastos )

A screenshot of the launching of Flash 4 on my G4 Mac appears below: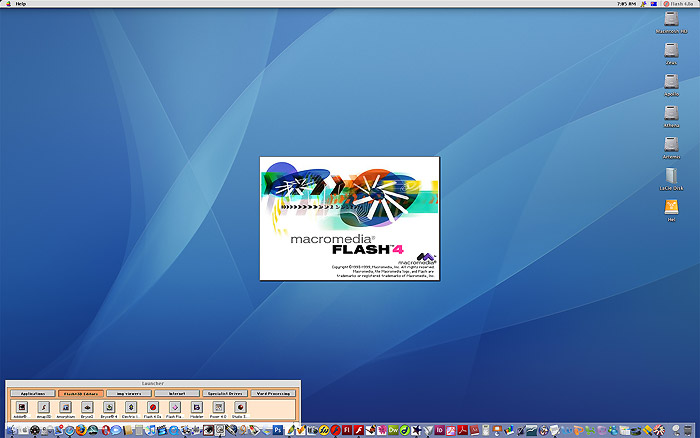 Because Apple computers now use Pentium Processors instead of the native Mac "PPC" processor, new Macs no longer run what is now referred to as Mac Classic, but they do run Windows. On my Intel Mac I run Windows XP via Parallels, and have since bought the Windows version of Flash 4, so that future modifications in Flash 4 will not mangle the preloader. There is one proviso to editing FLA files on different platforms, fonts used in the movie have to be re-selected otherwise they will be re-edited. Below is a screenshot of the launching of the Windows version of Flash 4 on my Intel Mac running Windows: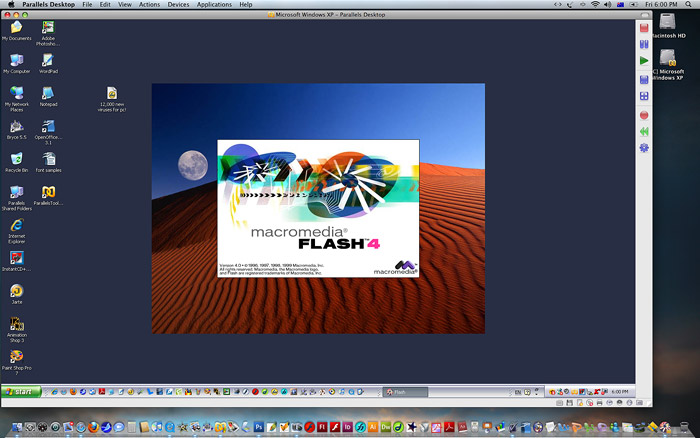 As a consequence of using Windows, I have come to appreciate how irksome the Windows OS is. It is impossible for me to understand why anyone would voluntarily even consider buying a Windows PC with its constant histrionic warnings of impending doom because of the vulnerabilities of the Windows OS to viruses, and to Windows' endless other warnings! So why did I buy Windows XP OS and Windows versions of programs to run on the Windows partition on my Mac? Annoyance. I had an entire suite of programs which work only up to Mac OS 9.2.2. With the Intel Mac none of these programs work. I had every intention of not buying a Mac ever again because of the feeling of betrayal. However, after experiencing Windows it is impossible that I ever consider buying a Windows machine.
Merits of Windows
Of course there is merit with the Windows OS; Microsoft, unlike Apple, supports its customers.
With Apple, a user may have bought a copy of Photoshop 6 (released in 2000) for their Mac, and find that with subsequent revisions to the Apple OS it has to work in emulation ("Classic") mode; and then find, as happened with the introduction OSX 10.5 (Leopard), that it won't work at all. The same user might buy another version of Photoshop, for instance Photoshop 8 (CS1), which works on OSX, and continues to work on Intel Macs via "Rosetta", but realise that with new releases of its OS Apple might jettison PPC support. Apple, unlike Microsoft, does not realise (or care) that the OS is merely a host for programs. People don't buy Apple computers to listen to the Apple chime on start-up and admire the bouncing icons on the dock as programs launch. Apple expects that with every few revisions of their OS that users of their product should not only buy new hardware, but replace third party software suites already owned, even though these programs still fulfill their intended function; meanwhile, the Windows versions of these programs released for versions of Windows as early as Windows 98 (such as for instance Macromedia Flash 4) still work in Windows XP (and most likely in Windows 7) in 2010.
The graphics on this site were created in Adobe's Photoshop 5. The photography used for the Photoshop images is my own. The camera used is a Pentax Super-A (film camera). Imageready was used to optimise the images and to export the Photoshop files as gifs with transparent (0 alpha) areas.
The html was edited manually.... (though I have gone on to use GoLive and Netscape Composer - which is now SeaMonkey Composer)
The background sound for this site was created by Jac Grenfell. The track is titled "voiceless"
Jac' site:


This site was revised 20/6/2009 and almost all of the sounds have been removed. Only the above-mentioned "voiceless" and an effect titled "Xmuzikc" by "Xmuzik" (downloaded from http://www.flashkit.com/soundfx/Electronic) remain.